Our Team
Matt Abularach-Macias
Matt Abularach-Macias is CLCV's Campaigns and Organizing Manager. Originally focused in San Bernardino and Riverside, Matt has expanded to also work on our statewide organizing efforts. In this role, Matt has been able to build partnerships and amplify community concerns about the impacts of climate change, the local benefits from investments in clean energy, and the critical need to conserve and protect our environment. Outside of CLCV, he chairs the Board of the Inland Region Equality Network an Inland Empire based LGBTQ Advocacy & Education Org. His work with CLCV(EF) and IREN is an extension of his previous organizing on educational access, LGBT rights, and anti-racism issues. He got his start in the professional organizing and political world as a regional field director on the successful campaign to elect Pete Aguilar to US Congress. Prior, Matt graduated from UCLA with a degree in Chicana/o Studies.
Mary Creasman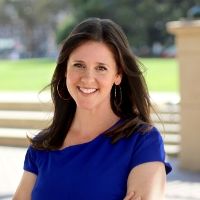 Mary Creasman is CLCV's Chief Executive Officer. Prior to taking on her role as CEO, Mary served as the California Director of Government Affairs for The Trust for Public Land where she led the effort to pass the largest parks tax measure in the nation, spearheaded the state's greatest investment in underserved communities in California's history, and created an urban greening program marking the first time parks and green infrastructure were included in California's climate policy. Mary has a long and successful track record of leading campaigns and initiatives at regional, statewide, and national levels as the Chief Strategy Officer of Green For All, the Associate Director of the Partnership for Children & Youth, and the Political and Organizing Director of the AFL-CIO Labor Council in Silicon Valley. She serves on the Wildlife Conservation Board as a Senate Appointee and has advised organizations across the country as an organizational development and effectiveness consultant.
Andrew Escamilla
Andrew Escamilla is CLCV's Regional Organizer. Andrew supports CLCV's Organizing work in Fresno and other parts of the Central Valley. Originally focused on building equity and organizing students and families in California K-12 schools, Andrew will continue to Organize marginalized communities, ensuring their voices are centered and uplifted in the climate crisis movement. Andrew in his role as the Regional Organizer will help shape the public narrative, educate lawmakers, cultivate environmental and environmental justice leaders, drive policy change, and expand regional partnerships and action in the Central Valley. He graduated from Fresno State University with an M.A. in Education with the option in Higher Education Leadership. He is passionate about higher education access and equity for all, making sure front line communities are at the forefront of solutions when it comes to climate change, and the solutions put forth. When not working, you can find him enjoying the outdoors, family time, supporting his partner Mayra, and enjoying their little pupper, Appa.
Annquenetta Lawrence
Annquenetta Lawrence is CLCV's Office Manager. She brings with her experience in both the corporate and non-profit worlds. Annquenetta has over 25 years of experience in providing comprehensive executive support and has particular strengths in office organization, project management, and computer proficiency. Previously, Annquenetta served as Executive Assistant to the President/CEO of Partnership for Children & Youth and was later promoted to the Administrative Manager. A native of California, Annquenetta resides in the City of Oakland with her daughter, grandson, and poodle.
Lucas Lineback
Lucas Lineback is CLCV's Data Services Manager. He's worked at CLCV since 2008. His work focuses on database administration; data management and analysis; grassroots fundraising program management, with a focus on phone canvassing, direct mail and online fundraising; coding and targeting for communications; general data support for the organization, and copyediting. Lucas grew up in Indiana and graduated from Indiana University with a degree in journalism. Outside of CLCV, he enjoys teaching and training Danzan Ryu Jujitsu.
Sarah Lyons
Sarah Lyons is CLCV's Development Associate, making sure donor info is up-to-date and where it should be, and helping with any questions or queries our members have. Sarah has been at CLCV since 2011, and working in the nonprofit world since graduating from Radford University in 2005.
Sean McManus
Sean is CLCV's Director of Philanthropy. He has spent his professional career working and volunteering within causes that he is passionate about—the arts, the LGBTQ+ community, education and, most recently, the environment. Prior to joining CLCV, Sean dedicated more than two decades to supporting independent filmmakers and building the audience for their work as the Director of External Affairs at the New York-based Independent Filmmaker Project, as the Development Director, Senior Director and Co-President of Film Independent and as the Director of Major Gits at the American Film Institute. He has also served in various development roles at the USC School of Engineering, as a Board Member of The Trevor Project, including two terms as Chairman of the Board, and as a fundraising volunteer for the Point Foundation. Sean is a graduate of the USC Marshall School of Business where he earned BSBA and MBA degrees.
Jennifer Molina
Jennifer Molina is CLCV's Communications Director. Jennifer is a bilingual communications strategist with experience running national and local issue-based advocacy campaigns. Most recently, Jennifer served as Press Secretary for California Attorney General Xavier Becerra. Previously, she worked on the Hillary Clinton for President campaign as the Constituency Media Director in Nevada where she was instrumental in mobilizing the State's diverse electorate and electing Democrats up and down the ticket. Prior to joining the campaign, Jennifer held various roles at the Center for American Progress (CAP) and its Action Fund where she led CAP's state media strategy and ethnic media program. Born in Cali, Colombia and raised in Bridgeport, Connecticut, Jennifer is passionate about fighting injustice, providing equal opportunity and environmental justice. Jennifer graduated from Hope College with a Political Science Degree.
Adel Olvera
Adel Olvera is CLCV's Philanthropic Partnerships Officer and has extensive experience working with nonprofit organizations, grassroots groups, and community partners –professionally and as a member of the community. She has led and supported projects and fundraising strategies that empower progressive causes and programs in California – from immigrant rights and education, reproductive health care access and sex education, voter rights and election integrity, and cycling and pedestrian safety. Adel played a key role in collaborations that sustained legal immigration and citizenship services in Santa Clara County that put individuals on a path to vote, supported economic development strategies that empowered resident-led revitalization plans for the Mayfair community in San Jose, helped to plan Contra Costa County's 1st Women's March, was part of a core team leading two annual national election integrity conferences held in Alameda County, worked closely with individuals in Northern California to fund sex education and reproductive health care services, and is involved in ensuring there are safe modes of transportation for cyclists – families and individuals in her community… just to name a few. Adel attended Humboldt State University and double majored in Psychology and Spanish Education, and has a certificate in mediation and SART (Sexual Assault Response Team.)
Melissa Romero
Melissa Romero is CLCV's Legislative Affairs Manager. In this role, Melissa represents the organization in the state's capitol, lobbying for strong environmental policies and working with partner organizations on advancing priority legislation. Her work includes tracking and prioritizing legislation, representing CLCV on a variety of coalitions and networks, working with state legislators and their staff, and being the organization's voice in the capitol. Prior to CLCV, Melissa worked with Californians Against Waste on advancing waste reduction and recycling legislation and at Cal State Long Beach, Associated Students Inc. advocating for sustainability and zero waste policies and practices on campus. Melissa's interest in policy began with an interest in environmental sciences and developed with strong sense of urgency to address the need to shift away from fossil fuel use and other extractive industry practices.
Mike Young
Mike Young is CLCV's Political and Organizing Director. He has been with the organization since 2005. He has served as Political & Organizing Director since 2018. He has extensive experience working with key political and grassroots community partners to build strategic relationships that have helped both identify and support environmental leaders, as well as hold legislators accountable to their community's concerns. Heavily engaged with CLCV's sister local leagues, Mike served as a board member and officer of the Los Angeles League of Conservation Voters, and is currently a board member on the League of Conservation Voters San Diego. He also played a key role in the development of a new Central Coast League of Conservation Voters. Mike is a graduate of Pepperdine University, and he earned B.A.s in Political Science and Philosophy, as well as an Undergraduate Certificate in Dispute Resolution.